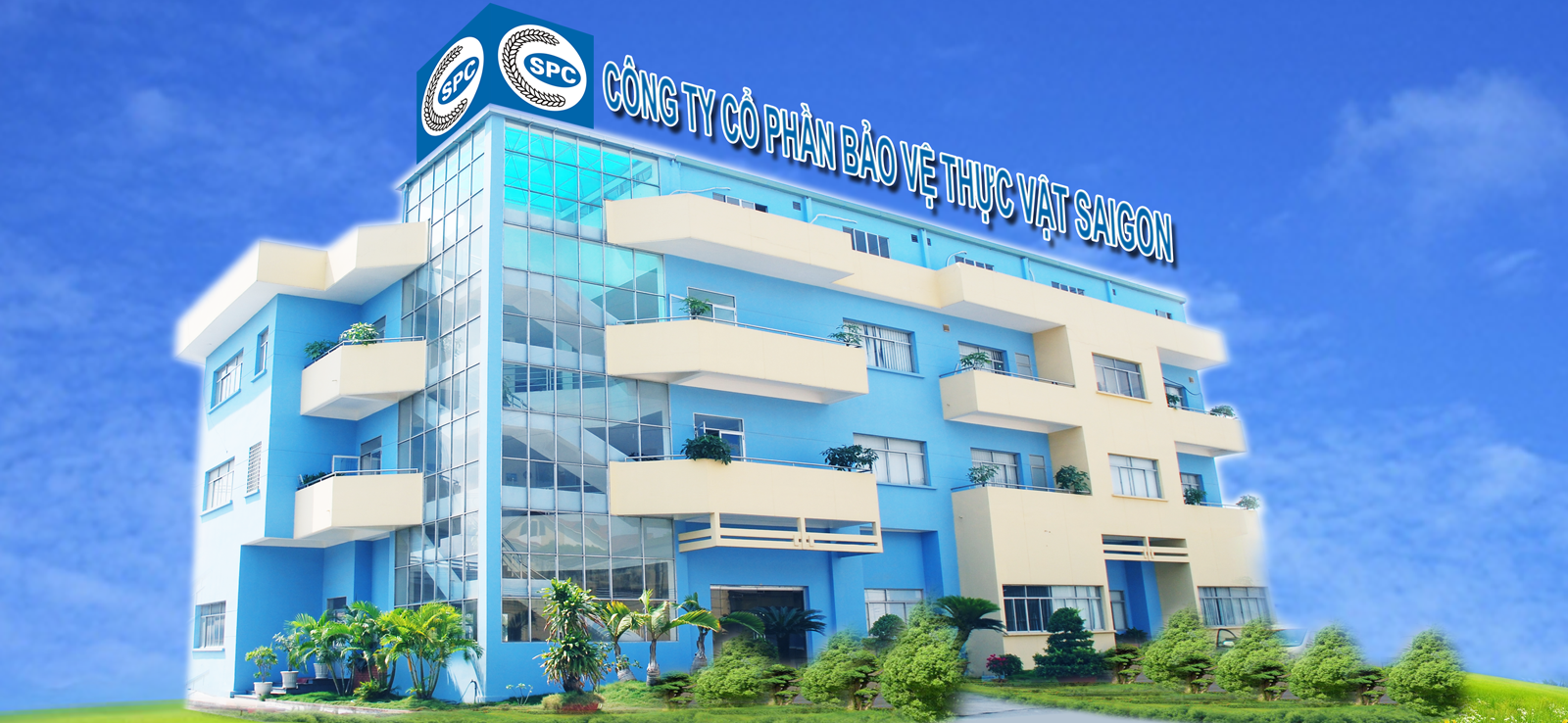 SPC is pleased to introduce you some traits about our Company  
Transacrtion name: SAIGON PLANT PROTECTION JOINT STOCK COMPANY
Abbreviated name: SPC.JSC
SPC was established since 1989, with 30 staff produced and traded in 03 pesticidal products to be mainly consumed in Ho Chi Minh City.
Up to now, SPC has had over 500 staff and employees working at branches domestic and overseas; with more than 250 products including: pesticides, sprayers, agricultural tools, plant species, fertilizer chemicals,... serving agricultural production, delivered to 4 Southeast Asian countries.
COMPANY'S LOGO
The meaning of Company's logo is from legend "Day and Chung rice cakes" originated from the VI Hung Vuong King - which is made in square and round forms symbolized for Earth and Heaven. The rice branch is symbolized for wet rice civilization, 53 golden-ripened rice are represented for 53 Vietnamese cities –provinces in the year of 1994. The abbreviated name of company is SPC  
The more deeper meaning is that Company's Logo expresses Oriental philosophy  
CLEMENT WEATHER – FAVOURABLE TERRAIN – UNITED PEOPLE 
With this logo. We'd like to show our developing philosophy ourselves : 
 "Satisfy aspiration for a sustainable and green agriculture"  
Vision
To become a leading corporation in tropical agricultural services where pioneering in applying new technology and innovation  
Mission
To provide quality products and services which fulfill aspirations for the sustainable and green agriculture  
CORE VALUES AND BASIC PRINCIPLES
Achievements  
Our achievements are evaluated by the level of satisfaction of our customers, our people, our shareholders, and community in which we operate
 We always appreciate our achievements and honor, our pride from the achievements of ours
By our achievements, we are recognized, respected by our partners, our people, our shareholders, and community
Our achievements bring satisfied benefits for our customers, our people, our shareholders, and community in which we operate  
Team
Teamwork is the way we satisfy our customers' needs and wants
We work as a team in every unit, cross - functions, with outside partners and customers to fulfill our promises with highest quality
There is no winner in the unsuccessful team, and there is no loser in the champion team
We are the big family in which each of us trusts, respects, takes cares each others  
Professionalism
Professionalism is shown at high quality. Professionalism requires ownership, accountability, engagement, and excellent methods
We present high commitment with our works and team members with the will that overcome every challenge. Our activities present high professional standards
We take accountability for our consequences. We keep our promises with high commitment to satisfy our customers' needs and wants
We empower to effectively and efficiently satisfy our customers' needs and wants on time. Our people are empowered to be free to do the right things
Innovation
Continuous improvement, development, and change are the ways we realize our dreams, aspirations, and passions. We continuously learn, research, and develop to have higher quality and customers' higher satisfaction
We nurture dreams, aspirations, and passions for sustainable and clean agriculture, and more values for our customers
Learning and development is the lifestyle of each member and the entire organization. Each of us continulously learning and developing to realize the dreams, aspirations, and passions of ours
Through learning, research and development, our actions are continuously oriented improving our performance to create sustainable development for the company
OUR STRATEGIES
Create the closed relationship with our customers and customers' loyalty.
Quick response to the information and market
Enhancing production and business capability
Enhancing management capability  
The  development of SPC depends on the enthusiastic spirit of SPC's members, the close-and efficient- co-operation of business partners at home and abroad, the support-and-co-ordination of related agencies as well as the attention from leadership at all levels
Through this introduction, SPC hopes that you will understand  more clearly development viewpoint of SPC in Vietnam and in tropical agricultural countries in the world
Sincerely thanks
Headquarters
SAIGON PLANT PROTECTION JOINT STOCK COMPANY
RQ 1, Nguyen Van Quy St., Tan Thuan Dong Ward, District 7, HCM City
Tax code: 0300632232
Tel: (028) 38 733 295 - 38 732 077
Fax: (028) 38 733 033 - 38 733 391
Website: www.spchcmc.vn - Email: info@spchcmc.vn
SAIGON PLANT PROTECTION COMPANY
SAIGON PLANT PROTECTION JOINT STOCK ENTERPRISE
Lot C1-C3 Hiep Phuoc Industrial Park, Hiep Phuoc Commune, Nha Be District, HCM City
Tel: (028) 3873 4089 - Fax: (028) 3873 4090
Affiliated Unit